The Piping Blog
---
The term "Piping Engineering Lead" (PEL) as used in this document refers to the person responsible for all piping Engineering and Design activities on a process plant project.  The actual PEL responsibilities will vary depending on the engineering company, the client, the type of project, and the project execution philosophy and the construction philosophy.  
Details

Written by Jop
The following article is a work of fiction. It portrays a hypothetical conversation that has not happened yet, between two people, the Chief Executive Officer (CEO) of one of the world's largest EPCM companies and the President of Project Operations (PPO) for one of the world's largest energy conglomerates.
Let's pick up the conversation ...
Details

Written by Jop
The following statement was made in a communication about welding two fittings directly to each other. This situation also applies to a fitting welded to a weld-neck flange or two weld-neck flanges welded together.
"Fitting to fitting welding is not permissible; a pipe shall be (placed) between fittings."
Details

Written by Jop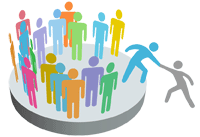 If you are one of the many pipers already registered on pipingdesigners.com, you probably don't need to read this, as you already know the benefits of memberships ... but you can!
Details

Written by Anton